Introducing the next generation of SIMS. A limitless new user experience in managing your security information program.
Introducing the Next Generation of SIMS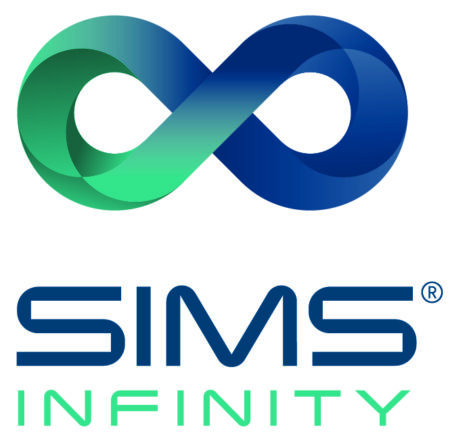 A Powerful & Highly Customizable Security Information Management System
High Speed Performance
Extensive Role-based Permissions
New Hub Communications & Actions Center
Single Integrated Database
Modern Web-based User Interface

Systemwide Enhancements & Upgraded Features
Customizable Capabilities
SIMS Infinity offers numerous customizable capabilities to provide the ultimate in centralized administration, communication, and management of your industrial security program.
Configuration Options: Hide and edit field names, hide tabs; activate customized tool tips to embed training; and designate enterprise or role-based access.
Roles & Permissions: Duplicate user permissions, configure and assign roles; apply permissions for edit or allow access per role, module, tab and data group relationship.
Infinity and SIMS v7.xx client work side by side: SIMS Infinity continues to work with and rely on the SIMS v7.xx client interface.
Quick Reports Tool: Use Parent/Child table fields and filtering to pinpoint output to a specific contract, access, or criteria; HTML export supports grouping of data for more meaningful reports interface.
SIMS Infinity Hub—New Systems Operations Center
The centerpiece of SIMS Infinity is the Hub, which serves as the new main menu and provides access to modules, as well as expansive flexibility in configuring content messaging to users, customizing notifications targeted to individual users, teams (groups of users) or roles, and executing industrial security functions with higher efficiency, productivity, and ease of use.
SIMS Infinity Hub Features
A wiki-like log-on screen designed to link to government sites, post documents and announcements, and review/work task lists.
New Communications and Action Center: Provides centralized user access to modules, tasks and company security communications, including announcements, reminders, links, SIMS Modules, and more.
Hub Communications: Widgets are made available to users based on role permissions and customizable with images, links to external or internal sites, and text.
Hub Announcements: Filtered to targeted users on their Hub; customize the target audience, number of announcements to display, and urgent or non-urgent status.
Hub Tasks: Workspace for case management support with tasks displayed only to the responsible user and responsible team; view and update tasks for relevant modules directly on the Hub without having to open the module and specific records.
Module Overview Screens: Tailor the new module overview screens for each user role based on the fields your users must see and update the most; view active clearances and accesses, travel and contracts, and polygraph results.
Expanded Personnel Module Output List: Offers new "quick search" functions and reports with easy-to-use configurations to search, export and display records.
Access Manager – Top-level access configurations; create users, user roles, and data groups that define utilities and module access.
Access Other SIMS Products – Future SIMS Infinity releases will offer access to other SIMS products (SIMS Dashboards and SIMS Workflow).
Enhanced support for a smooth transition
Initial releases of SIMS Infinity lay the foundation for the next generation of SIMS. With a focus on key module functionality, flexibility and efficiency, this solution is positioned to support the integration of workflows, portals and web access to increase efficiency and streamline our customer's security operations.
Custom field labels and tabs: Change labels to align with your organization and processes, rearrange fields on tabs.
Custom Forms and Checklists: Add forms and checklists in Administration, which are available to users in internal inspections and applicable modules. Government Forms will be supported as available for industry, not release-dependent.
Personalized Implementation: Our team will develop customized packages to assist clients with configuring SIMS Infinity for their unique needs. Cross-reference documentation, user guides and training guides included.
Dependable Technical Support: Access to all releases and basic upgrades performed by SIMS Software's support staff. Phone, email and virtual technical support is provided by our experts.
SIMS Product Suite Integrations
Single System of Record – The core products of the SIMS Software Suite continue to share a single SQL database providing a single system of record:
SIMS Infinity
SIMS 7 Client
SIMS Dashboards
SIMS Webpages
SIMS Infinity supports custom API integrations.