SIMS Modules Available for all Security Functions
SIMS is distributed in a standard configuration that includes all modules shown below. The functionality is identical between the Standalone, Lite, and Multi-user editions. The only restriction is SIMS Lite supports a maximum of 200 personnel and 1000 document records. The Standalone and Multi-user editions support an unlimited number of records in all SIMS modules.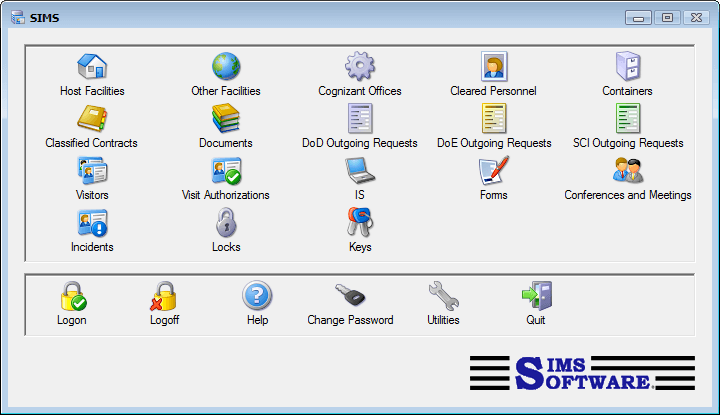 Microsoft SQL Server Database
SIMS is compatible with 32-bit and 64-bit editions of Microsoft SQL Server 2008, 2008 R2, 2012, and 2014. All editions are supported including the free SQL Express edition. The FSO, as well as other designated SIMS users, have complete oversight and audit capabilities of all business units using SIMS. All database changes are available in real-time because all SIMS users share a common database, securely located behind your corporate firewall, and optionally partitioned by data groups or lines of business.
Different business units can share those data elements that they wish to share across the entire business enterprise (e.g. personnel information) while restricting other data elements to only specific business units and users (e.g. documents, safes, containers, etc.). Each SIMS user account can be configured to provide no-access, read-only access, or full read-write access by module and data group; thereby providing strict need-to-know control on a record-by-record and user-by-user basis
Scalable Architecture
SIMS Multi-user uses a three-tier architecture: SQL Server, IIS middle-tier, and Smart Clients. The SQL Server and IIS middle-tier are typically hosted on a common file server that runs MS SQL Server or MS SQL Server Express. However, the middle tier can be hosted on a separate, or even multiple separate computer platforms, thereby affording maximum flexibility, tailored to your enterprise requirements. Therefore, SIMS Multi-user is truly enterprise-class and scalable, as your organization grows. SIMS has been specifically designed to embrace your IT enterprise architecture and run as efficiently as possible within that architecture. It is because of this enterprise-level efficiency that SIMS has been selected for enterprise-wide deployment by our largest defense contractors and aerospace conglomerates, including Lockheed Martin, BAE Systems, Engility, L-3 communications and others.
Superior Smart Client Replaces Pure Web Interface
SIMS Multi-user uses a Smart Client interface that is superior to both pure web-base and client-server architectures, in that it affords the best features of both of the other architectures. The SIMS Smart Client interface doesn't require "Administrator Rights" to install and is invoked by clicking on a URL. Microsoft refers to this technology as "ClickOnce". From the user's perspective, it's like running a pure web-based system, in that users go to a book marked URL from their web browser to run SIMS.
SIMS Smart Client ClickOnce updates are automatic and don't require any user or IT staff interaction. Whenever the SIMS Server application is upgraded, all Smart Client are automatically upgraded, the very next time that the Smart Client is launched via the user's Web browser. The Smart Client affords a much richer user experience than is possible with pure web-based systems. Perhaps most importantly, the Smart Client interface avoids discrepancies in Java versions, browser versions, wide variations in security settings, pop-up ad blockers, and other potential browser incompatibilities.
SIMS Modules